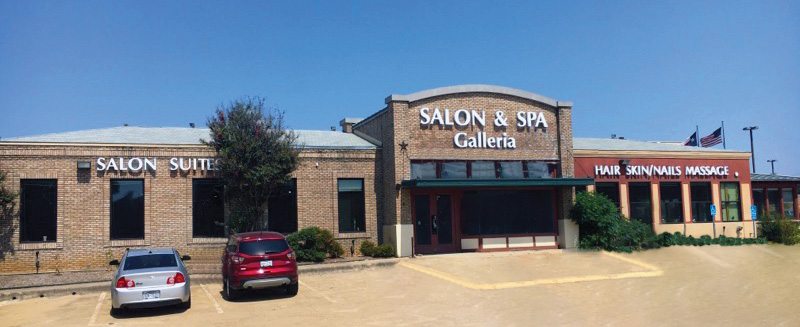 Looking for hair salons to get your business booming? We can help you get your career started today. Working for yourself and having a hair studio of your own one day can be a reality, not just a dream. Are you currently looking for hair salons Grapevine, hair salons Arlington, hair salons in Fort Worth or hair salons in Mansfield but do not know what is the best option for you?
Salon and Spa Galleria can help be that middle step between working in a salon on commission and owning your own salon one day. All of our locations have suites for rent that come with a 32-inch flat screen equipped with DirecTV for you to enjoy in your free time or for you to entertain your clients with while you are servicing them. Salon and Spa Galleria offers you 24-hour access to the salon and spa for those last minute clients you may have that need your services.
All our suites are customizable to your liking like paint and decorate how you would like and also sell a product just like a normal business. All suites and spa rooms are your own business. You can sell product right out of your suite and increase your revenue by 10-15 percent. We can all agree that there is nothing better than making more money and doing what you love in the process.
Oh and let's not forget twenty-four-hour surveillance to ensure the safety of you, your clients and your suite at all times. You can now service those clients without worrying about if the salon will close in time for them to get to you. All of our locations have laundry services available for your convenience.
Our Salon and Spa Gallerias have washer and dryers and we provide the detergent so you can wash your towels and capes at work instead of having to take them home. Salon jobs in Grapevine and salon jobs in Keller, as well as salon jobs in Irving, are great locations get the business up and running. Salon jobs in Arlington and salon jobs in Fort Worth are prime locations and have easy access to the salon itself.
If you are looking for hair salons in Irving, hair salons in Keller or hair salons in Southlake then take the short drive over to our Grapevine location and see what we have to offer you and your future business. If you are looking at getting into your own hair studio in Arlington we can help you get that started. Contact our leasing manager to take a look at any location that works for you.
Make an appointment with our leasing manager and see what we have to offer. We can guarantee you will be happy with what we have to offer and will enjoy the atmosphere in each of our Salon and Spa Galleria. We have great specials going on right now and would love for you to join our team and call us your new work home. We look forward to hearing from you.